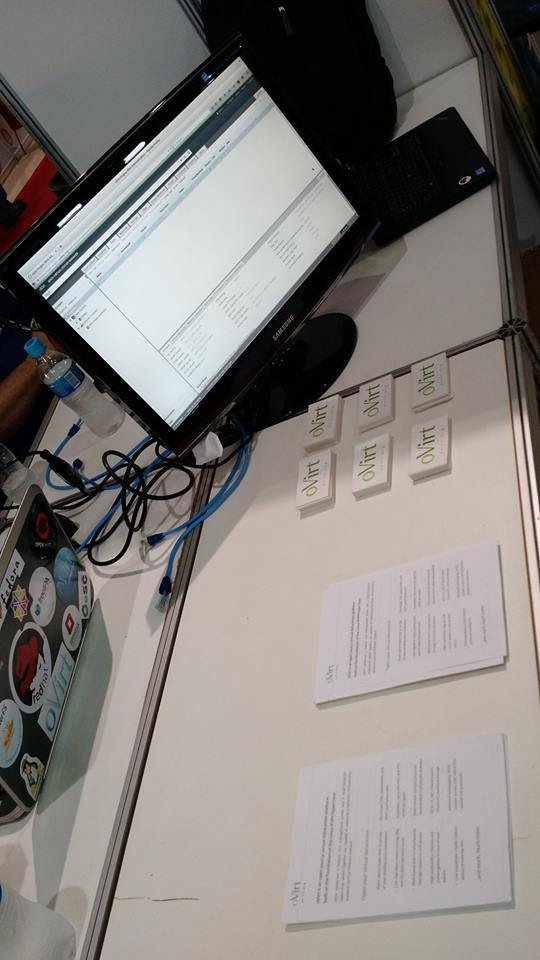 Last week I have participated of FISL conference from 8th to 11th July in Porto Alegre/Brazil. This year we completed 4 years of oVirt participating in FISL.
One of benefits to be in FISL and others similar events is the face-to-face contact between oVirt community/developers and users. We have used all time we could in the booth/talks to explain how new features will be integrated to oVirt 3.6 and answering general questions around oVirt.

Talks

oVirt Community Update

We have started with the annual oVirt Community update. The goal for the community update slot in FISL is to share user experience with the current release of oVirt and share what's coming in oVirt 3.6.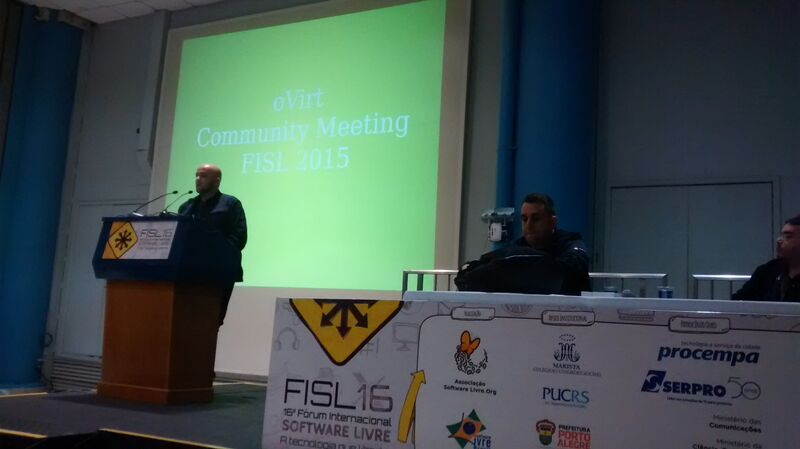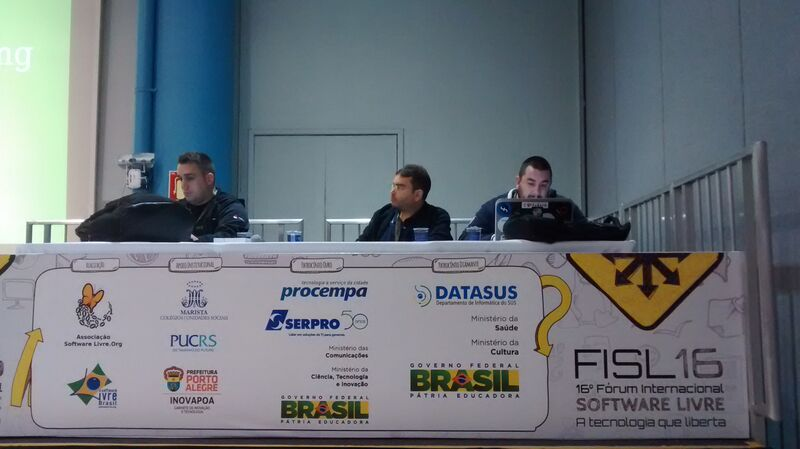 Gluster and oVirt

We also had a talk about Gluster and oVirt by Marcelo Barbosa, he showed
how oVirt + Gluster is running in the development company that he works.
In the end, people asked questions how he integrated FreeIPA with oVirt
and how well is running Jenkins and Gerrit servers on top of oVirt.
Next year Marcelo should take 2 slots for a similar talks, people are very interested in Gluster with oVirt and real use cases as demonstrated.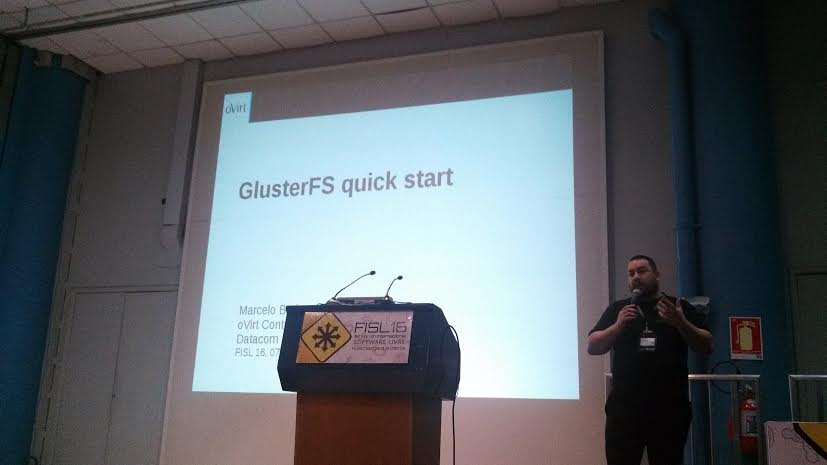 Case Study VDI TR Odonto

Candido Raphael is a consult guy that brings to Open Source events use cases of
oVirt deployment. This year, he brought an example of migration of Terminal Service and Windows solution to a oVirt VDI solution. The crowd got excited and several questions were made to Candido about the implementation and hardware he used. Candido please keep bringing more use cases ;-)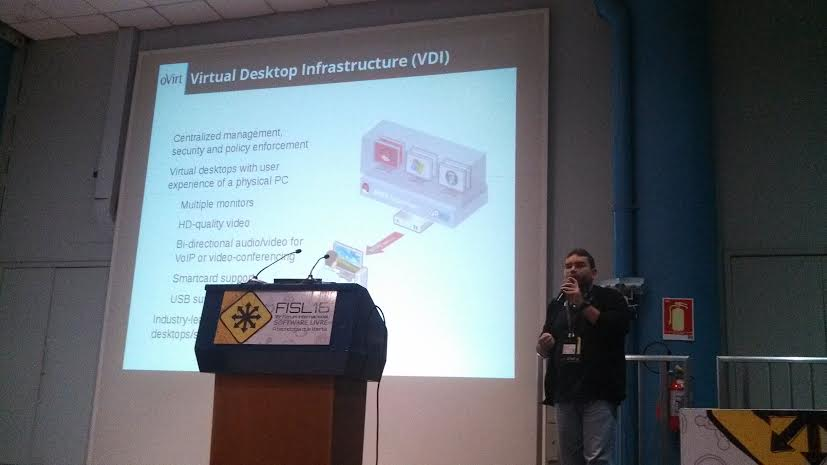 Virtualization CPU SLA

Amador gave a talk about CPU SLA. I must say it was awesome talk. It went from
how it works in behind the scenes, like, setting CPU SLA manually via xml/virsh
and finally how we set it via oVirt Engine. As he mentioned in the talk, some features were added in oVirt 3.3 and now for oVirt 3.6 we have much more. He also explained the balloon schema via MoM to the crowd. Well done Amador.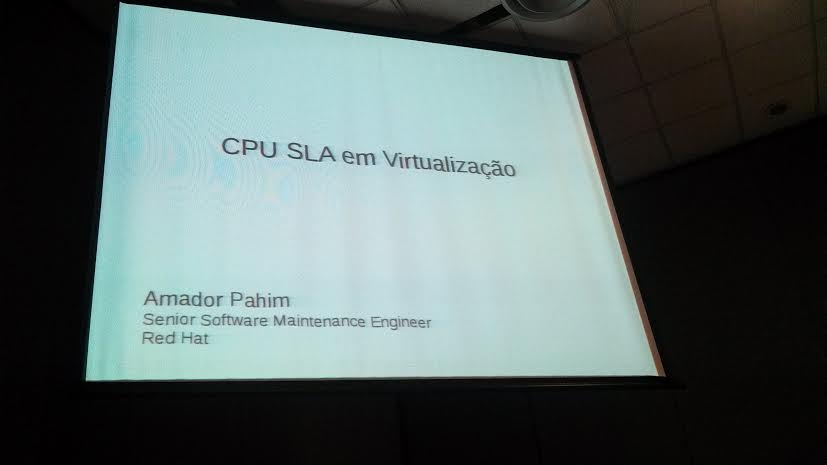 Generic Registration

This year I brought a talk about the Generic Registration that oVirt 3.6 will provide via ovirt-register tool. Basically, now users can register their hypervisors running ovirt-register --engine-fqdn myengine.fqdn instead of going into oVirt Engine admin portal. This tool supports Fedora, CentOS 7, oVirt Node 3.6 and Debian.
We got feedback from the people in the room and a volunteer for packaging the tool in Debian. 8-)

If would like to test the tool in Fedora 22 (python3), use:
$ sudo dnf install python3-ovirt-register

We called the tool 'python'-ovirt-register as it provides a python library too.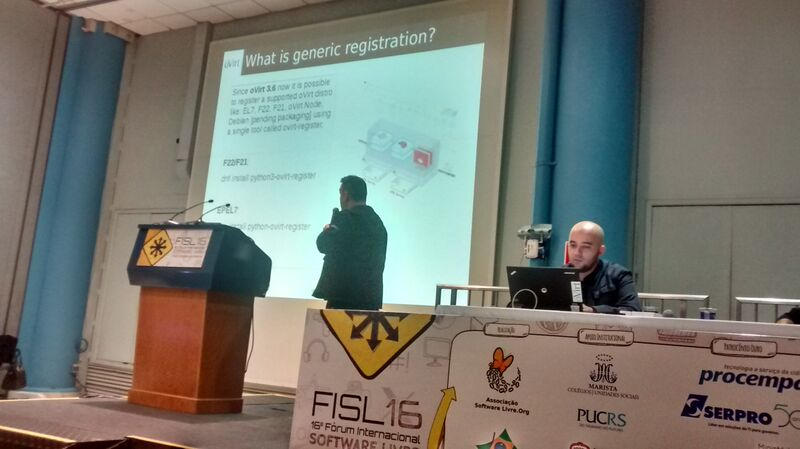 Integration: oVirt Docker

Amador started explaining topics and concepts involved in Atomic, Docker, Kubernetes to everyone be in the same page. Later the showed how oVirt can be integrated with such topics. Was an amazing topic, crowd made several questions related to the subject.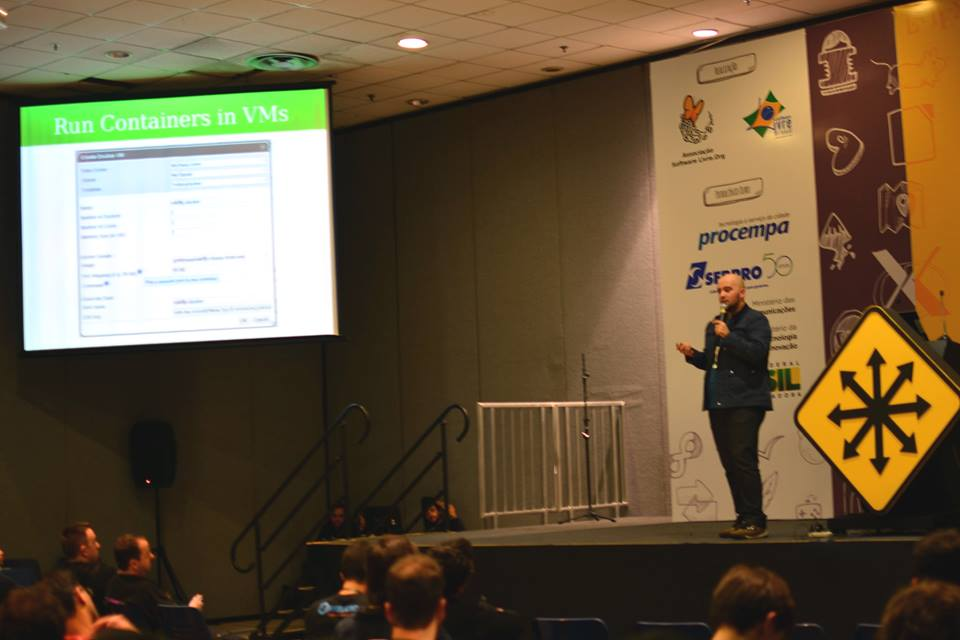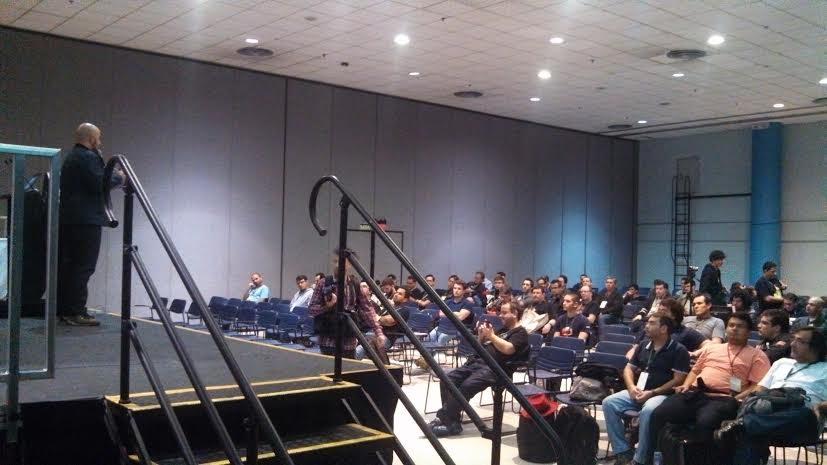 Top questions/answers in this event:

* How can I convert my VMWare to oVirt? Can I use the Graphical interface?
oVirt 3.6 provides in oVirt Engine the possibility to migrate the VMWare guests.
See: https://www.youtube.com/watch?v=QSss__Nl5rU

* Which distro oVirt 3.6 supports at moment as Hypervisor?
Fedora, CentOS 7, Debian

* When the oVirt 3.6 final release will be launch?
Plase see: http://www.ovirt.org/OVirt_3.6_Release_Management

* Could you please share the oVirt 3.6 testing repo?
Please see:
http://www.ovirt.org/OVirt_3.6_Release_Notes#Fedora_.2F_CentOS_.2F_RHEL
http://www.ovirt.org/OVirt_3.6_Release_Notes#Debian_Jessie

* Where can I download ovirt-node 3.6 iso ?
We provide it via jenkins job at moment for testing:
http://jenkins.ovirt.org/job/ovirt-node_master_create-iso-el7_merged/

* Can I use oVirt Node, Hosted-Engine and Gluster or ISCSI together?
oVirt Node support all features that oVirt provides, in short answer,
yes oVirt 3.6 should support it.

* How can I upgrade between the releases of oVirt?
Use engine-setup tool. It will detect you have oVirt Engine running and
will upgrade it. For oVirt Node you can boot the new image or install the rpm
of iso in oVirt Engine and later trigger the upgrade via oVirt Engine.

* Can I have 3rd party backup vendor tool integrated to Graphical interface of oVirt?
I recommend you contact your favorite backup vendor and check it.
The oVirt community is open for new patches, improvements or suggestions for
better integration.

Finally, I would like to thanks Amador, Candido and Marcelo again for the great work we made in the oVirt booth. Next year would be awesome to see the companies that contact us in the event for information how to migrate their current virtualization solution to oVirt giving a talk about their use case.

Links

All slides available at:
http://www.ovirt.org/OVirt_Slide_Decks

For general questions, please use our mailing list:
http://www.ovirt.org/Mailing_lists